Lever braked warehouse safety steps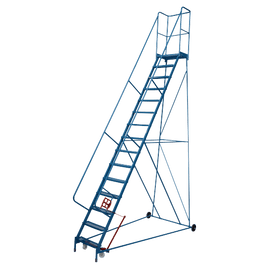 zoom
Short Description
fully welded steel framed warehouse safety steps
epoxy powder coated finish
hand operated brake and lift mechanism immobilises the steps for stability
1 metre high handrail
platform size - 550Wx380Dmm
platform has a kick plate for safety
punched steel mesh treads
tread depth - 145mm
2 x 160mm rubber wheels and 2 x 100mm swivel nylon castors
UK made
Product Details
Bito Universal Mobile Safety Steps

Bito steps perform a very crucial role in ensuring that service delivery in your warehouses gets implemented in a very efficient way. With most of the items in the units piling up above the average human reach, implementing a stretch assistant mobile utility is, therefore, a vital addition to the unit environment. Statistically, employees who work in any department or setting with a height of 6 feet and above are approximately 30% of the global labourers.
It is, therefore, possible that most of your workers are 5 feet tall and shorter. Mobile easy access steps get built in this way to ensure that the transfer of load from the store to the loading area is as efficient as possible.


What are Open Back Warehouse Steps?

Bito's mobile easy access steps are designed to make your moving and loading a walk in the park. They are easy to move and inclined at a not so stiff angle and also not a very wide angle, this mimics the loading bay steps with a movable touch. This ensures that the work done is what is needed, not more or less. You, therefore, get the job done without having to over work your employees. Designed as open back warehouse steps, that work for all your loading needs from loading lorries to bays.


How do Loading Bay Steps Work?

During the loading process, the backside with the wheels, stands against the loading bay or lorry. The steps have a 950mm high handrail that ensures that the loader gets enough anti-toppling support. The stepping units are 559mm wide with punched metal treads. This punching ensures that the steps are anti-slip and have a good grip of the shoe of the loader. They are open back warehouse steps, since the backside is free between the handrails.
They mimic the loading bay steps design, making them the most suitable natural design implementation. The 400mm deep platform has two rubber wheels that implement movability for the unit.
Bito steps bring efficiency and safety to the workplace. They ensure you can handle your loading processes in the best way reducing the strain and workforce drain.
Technical specifications
| | |
| --- | --- |
| Dimensions W x H x D (mm) | 1280 x 4750 x 2730 |
| Number of treads incl. platform | 15 |
| Height of platform/upper tread (mm) | 3750 |
| colour | blue |