This offer is still valid: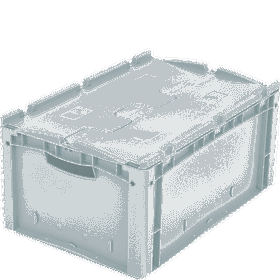 European size stacking containers XL
with lid
starting from

£23.00 / each
£35.49 / each
Storage technology and equipment from the specialists.
Storage & handling products and solutions by the logistics professionals
Welcome to BITO's online shop. As industry leaders in the field of warehouse storage & picking technology and equipment, you'll find no shortage of high-quality products to help overhaul your operation, increase efficiency and bring order to your workplaces. We provide premium products for customers ranging from the DIY enthusiast to large-scale industries.
BITO – an ongoing storage success story
With more than 170 years of heritage behind us, it's little wonder that out products are amongst some of the very best in the business. Our story began with the production of simple parts, but in the decades that followed, BITO quickly established itself as market-leading specialists in the design and manufacture of storage systems, picking technology and hard-wearing plastic containers. We're well known for our expertise in providing business with the bespoke solutions they require to refine their storage needs, with specially developed products that not only answer your warehouse requirements, but bring innovative new features to your workflow. We plan, design and manufacture a wide range of automated storage systems, manual racking systems and an incredible selection of containers to complement them. Our impressive client list includes customers from all sectors, including large retailers, well-known freight forwarders and service providers, food and beverage groups, manufacturing companies and more.
Our online shop offers a wide selection of essential storage & handling products, including:
Bins and containers
Trucks & trolleys for internal transport
Shelving systems of all varieties
Equipment such as safety steps, cabinets, work tables and work benches
A comprehensive range of accessories for safety in production and storage areas
Extensive extras for enhanced storage and shipping products
A Single Supplier, Unbeatable Advice
At BITO, we pride ourselves on offering our customers first-rate products that beat the competition, providing you with everything you need from a single source. Our core ranges offer excellent value for money, with huge savings to be had when you order in bulk. Many of our shelving systems have a starter and extension bay modular design, ensuring you can reorder additional units later on to expand your storage requirement. Perfect if you're looking for a supplier who's on hand to provide when you upscale your operation. Many of our products will be delivered within a few days after ordering, while our specialist equipment will be delivered to you on an agreed date should it take longer to supply. Detailed instructions for assembly are included with each product, ensuring there's no time wasted once your order arrives. We also attach great importance to our commitment to customer service. We have a team of specialist consultants who are on hand to provide you with insight and answers on our product range should you need any advice, helping you determine the best storage solution or equipment for you.
Enjoy Total Peace of Mind with BITO
At BITO, we list more than 5,000 individual items in our online product catalogue. Top offers and key product details can be found on each product page, giving you an immediate oversight of just why you should be investing in our unbeatable products. You can also subscribe to the BITO newsletter, ensuring you never miss the latest updates about new product ranges, sale deals and other promotional offers courtesy of us. Our products adhere to the strictest standards of quality and safety and they are characterised by their attention to detail and quality craftsmanship. All of our products have been designed and manufactured in adherence to DIN EN 9001.2008. With strict controls from production to shipping, we ensure that consistently high standards are achieved at all times.
We're looking forward to welcoming you on board as a valued BITO customer. Whether you're an established company or just starting out, you can benefit from our many years of experience and unrivalled know-how to streamline and optimise your warehouse processes, boost efficiency and bring some order and organisation to your company. If you're looking for bespoke, tailored solutions that fit your requirements perfectly, you've come to the right place.