Universal mobile work safety steps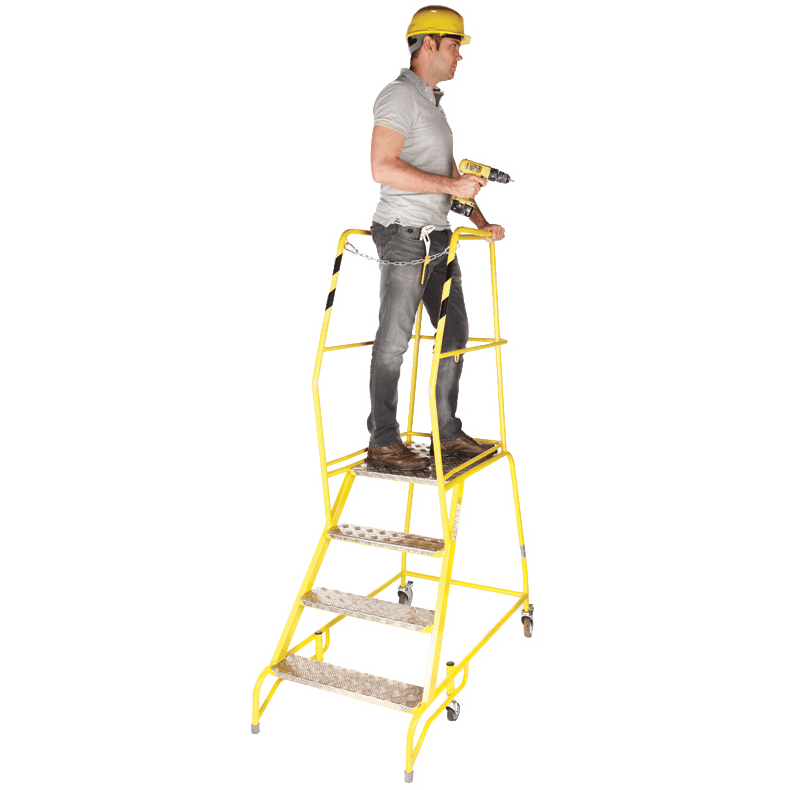 zoom
Short Description
mobile steps also suitable as a work platform
1m high handrail for safety
140mm deep aluminium treads
2 swivel braked 125mm rubber castors and 2 spring loaded 75mm rubber castors
user's weight keeps the steps stable
safety chain to prevent falls
yellow epoxy powder coated finish
UK made
More product details
Product Details
Universal Safety Steps to Allow Safe Working
Warehouse steps are an integral element of safe operations in any working environment. Safe access to items and structures at height, for order picking, is a crucial part of a workplace's health and safety commitments, and so the use of mobile steps is vital to keep operations moving. When choosing the right universal safety steps for your warehouse, it's important to assess the working environment to check which type of mobiles steps are most suitable. For instance, some of these steps can double as a work platform, but others aren't recommended for use in that way. While choosing the right mobile steps can improve workflow and warehouse safety, some universal safety steps may not be useful in a given warehouse.
Straightforward Picking with Quality Warehouse Steps
Picking and packing are two core tasks within a warehouse, so it's important to choose the right warehouse steps for the job at hand. Along with this, mobile steps may be required for warehouse maintenance activities and stocktaking. The
traditional folding steps
are ideal for lower shelves, however, ensuring safety on the higher shelved picking and packing, warehouse steps are key. The right universal safety steps will lend themselves to multiple tasks while being easy to move around. Most of all, these steps must conform to health and safety standards, ensuring the security of your workforce as they tackle the everyday tasks associated with the operations of your workspace.
Why Choose BITO Universal Mobile Safety Steps
With 2, 3 and 4 tread versions of these universal safety steps available, there is a set of mobile steps available to allow users to reach a platform height of 960mm. These mobile steps are also suitable for use as a work platform and come equipped with a safety chain and high double handrail to help prevent falls. This allows users to work at height in a safe manner with the bright yellow epoxy powder coated finish ensuring high visibility in a busy warehouse. To ensure ease of movement around a warehouse, four durable rubber castors are attached, including two swivel braked castors.
Technical specifications
| | |
| --- | --- |
| External dimensions L x W x H (mm) | 1480 x 620 x 960 |
| Number of treads incl. platform | 2 |
| Height of platform/upper tread (mm) | 480 |
| Weight (kg) | 24 |