Boltless shelving with wire baskets
galvanised finish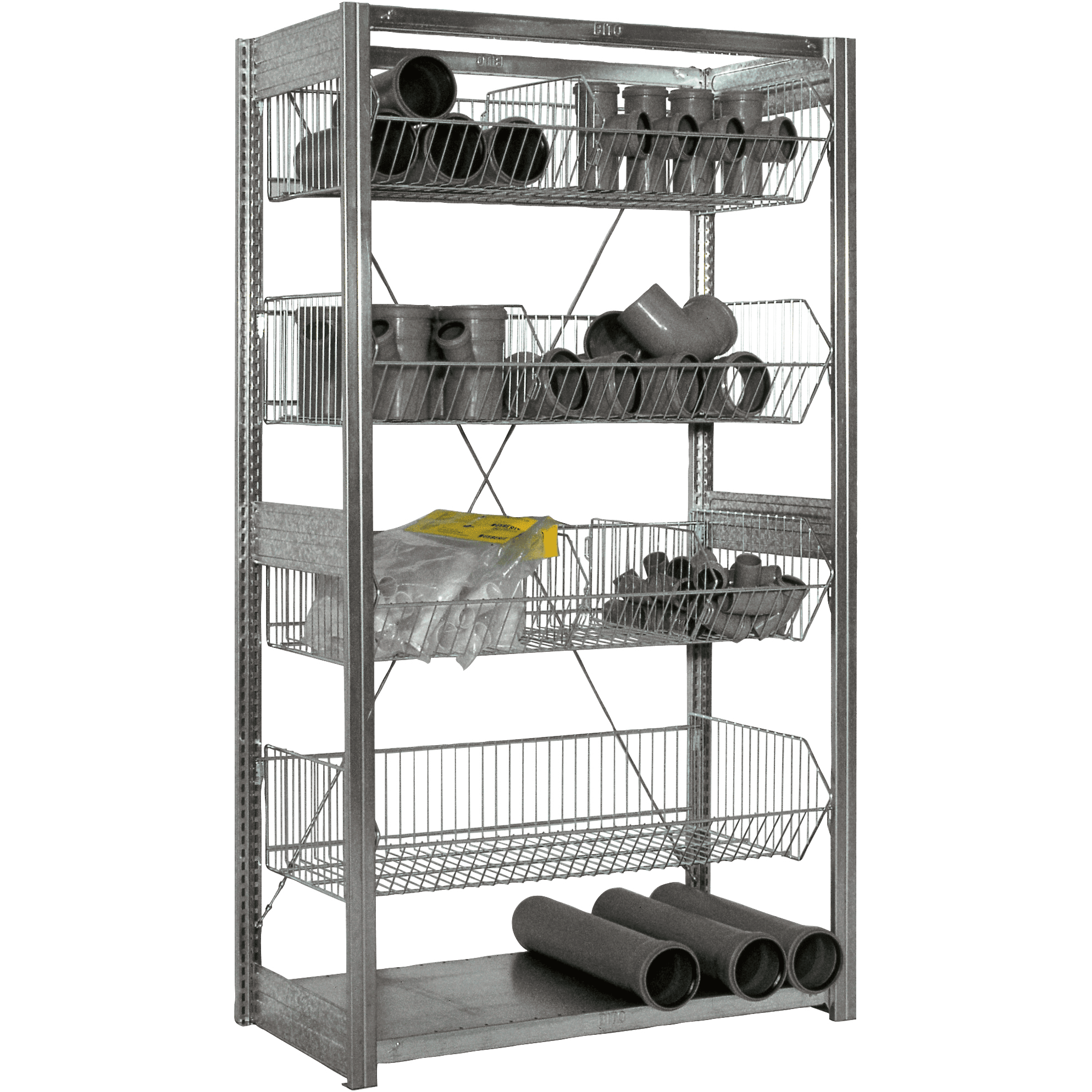 zoom

Short Description
ideal for goods that are difficult to stack
ideal for lightweight, yet bulky loose items
stocked items can be identified standing beneath a storage location
boltless assembly with back bracing every alternate bay
wire baskets adjust at 25 mm intervals for optimum adaptation to your stock items
More product details
Product Details
Boltless shelving with wire baskets

Mesh basket racks: An attractive option for displaying goods

With this mesh basket racking unit, you can store goods for inventory purposes and display, while providing easy access for picking.

These mesh basket units are ideal for storing light and bulky goods alike. Thanks to their sturdy design, you can fill them with heavy goods that might be difficult to stack. The load capacity of a single mesh basket is 35 kg. Optional separators allow you to divide up baskets into smaller compartments, if using a single basket to store multiple categories of items.

For maximum protection against corrosion, these shelves are fully galvanised. The base is also included, while a boltless construction allows for easy installation. Numerous accessories are available, allowing you to expand your shelving as and when required. Among other items, you can invest in separating grids, additional baskets and lid trays, which can be inserted into the upper sections of the frame. The modular principle of these shelves provides maximum flexibility to keep up with all your storage needs.
Technical specifications
| | |
| --- | --- |
| Shelving height (mm) | 2200 |
| Useable depth (mm) | 500 |
| Description | Extension bay |
| Shelf load (kg) | 100 |
| colour | galvanised |
| Bay load (kg) | 800 |
| External bay width (mm) | 1008 |
| External bay depth (mm) | 524 |
| EAN | 4250692959377 |
Features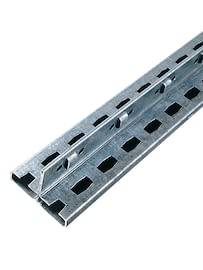 Uprights
High load capacities are achieved through precision steel bending to ensure sufficient rigidity for realising shelving heights of up to 10 metres.
Slim 50 mm profiles contribute to maximum space utilisation.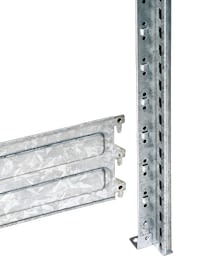 Frames
Easy boltless assembly on site for perfect adaptation to your location.
Level spacing can be adjusted in 25 mm increments to suit your needs.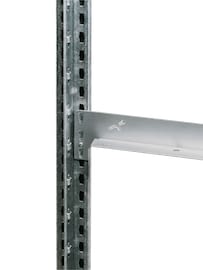 Beams
Beams and uprights form a solid force-fit connection that provides excellent lateral stability. The three location hooks of each beam connector conveniently slot into the upright perforations.
Safety pins prevent that the beam is accidentally dislodged.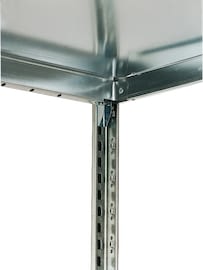 Shelves
Solid shelves with shelf clips - Our shelves feature box-profiled edges at the long sides and triple edge bending at the short sides.
Reinforcing lengthwise beads and pressure joined corners ensure excellent stability.
All shelves are perforated to accommodate shelf dividers.
Downloads
Instructions of assembly and use
Brochure