Sheet/plate racks for oddments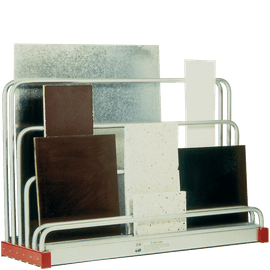 zoom

Short Description
rack base from galvanised steel sheet with grooves for easy sheet material positioning, the square-tubed frame provides stable footing
galvanised push-in dividers bars, additionally secured with bolts
neat presentation saves time and money
saves time and money
encourages re-use of oddments, fast return on investment
designed for storing sheet materials from PVC, laminates, cardboard or sheet steel
suitable for sheets up to 4 mm thick and for materials with a specific weight up to 9 kg/dm³
divider bars in various heights (2 x 120 mm, 1 x 385 mm, 1 x 640 mm and 2 x 900 mm) allow to store sheet materials of different dimensions
Product Details
This rack provides practical storage for sheet materials

Utilise your materials efficiently with quality racking

Orderly storage of offcuts, sheet material and panels is a prerequisite for efficient organisation in the manufacturing sector. Cost-effective racking creates optimal storage and easy access to materials.

This rack with removable dividers is ideal for the storage of offcuts, sheet material and plastic panels. This vertical rack is mainly used in the manufacturing and building supplies sectors, with galvanised sheet steel providing a sturdy and hard-wearing construction. Dividers are inserted and secured with the help of bolts, ensuring all products can be found with ease. Due to the longer length of dividers used, large cuts of material can be stored with ease. This static storage unit offers a good overview of supplies and provides easy access to stored contents.
Technical specifications
| | |
| --- | --- |
| Dimensions L x W x H (mm) | 1600 x 480 x 1000 |
| Section width (mm) | 50 |
| Number of compartments | 5 |
| load capacity (kg) | 200 |
| Suited for panel dim. (mm) | 80 x 120 - 1600 x 1600 |