Storage and handling bins RK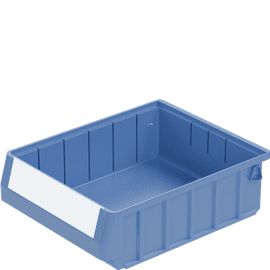 zoom
zoom



Short Description
storage of small items in a minimum of space and away from dust and dirt
90° corners, snag-free internal sides and a flat base allow excellent volume utilisation
comfortable and safe handling improves operational efficiency
fit perfectly into BITO shelving systems
series comes with the largest number of size options on the market
Product Details
RK Racking: Store small parts effectively


With the RK shelf bins from BITO, you can optimally exploit limited spaces in order to store small parts safely and properly.

Shelves are used in storerooms and warehouses to keep different products in view and keep an overview of stock levels. In the case of very small items, shelving space is not always used as efficiently as it could be and a lot of space remains untouched. The BITBOX RK allows you an easy solution around this. Not only can you house small products effectively, you can maximise the amount of storage space available to you as the boxes are stackable.

RK racking and shelving bins from BITO are characterised by a robust design and stability. Because of their shape they remain stable even when stacked. Sturdy handles also make it easier to remove them from the shelf and transport. Sizes are precisely matched to different BITO shelf systems, allowing for a perfect fit. As each container has a matching label attached, you can easily identify the contents.
Technical specifications
| | |
| --- | --- |
| Bin type | RK3209 |
| External dimensions L x W (mm) | 300 x 234 |
| Height (mm) | 90 |
| colour | dove blue |
| Material | PP |
| Internal dimensions L x W x H (mm) | 256 x 211 x 80 |
| Volume (litres) | 4.4 |
| Stacking load (kg) | 15 |
| Load capacity (kg) | 5 |
| Temperature range | -20°C to +80°C |
| EAN | 4250692914192 |
Features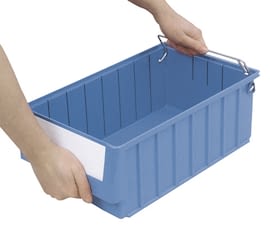 Handling
The handle and the integral grip allow excellent manual handling.
90° corners, snag-free internal sides and a flat base allow excellent volume utilisation.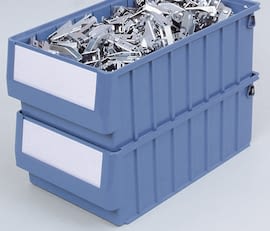 Support bar
Retro-fitting the support bar for shelf use turns the bin into a drawer and prevents it from being pulled out by accident.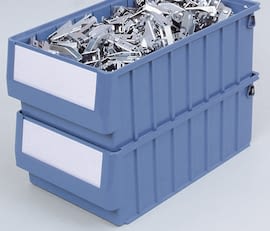 Stacking safety
Stacking safety is excellent due to the slightly prominent base edging and stacking rim on all sides and does not reduce with use of the lid and lifting/safety bar. Very high load capacity and stacking load.
Downloads
Technical data sheet
Declaration of conformity
Brochure