Multi-purpose containers MB with double base
with hinged interlocking lid and fork entry shoes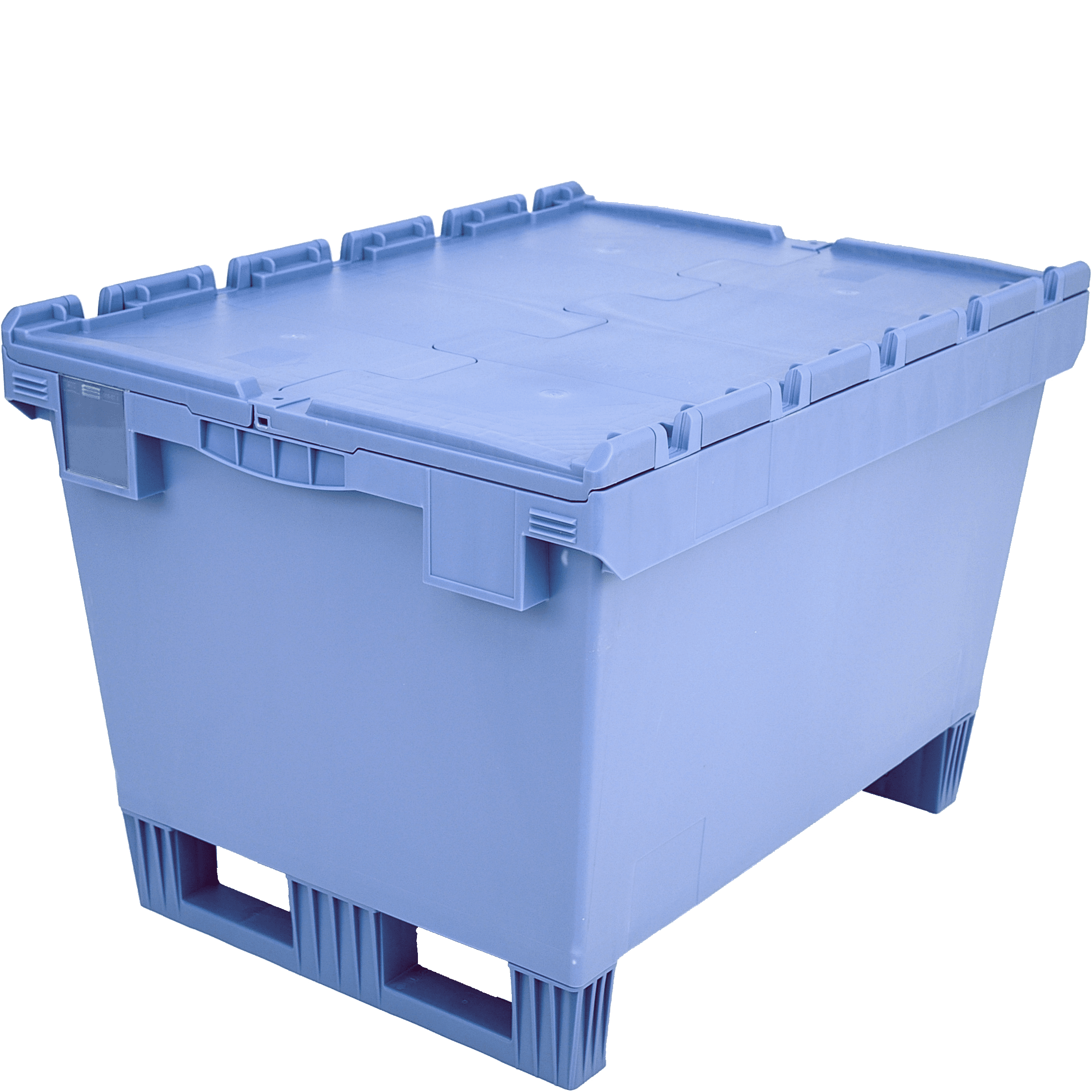 zoom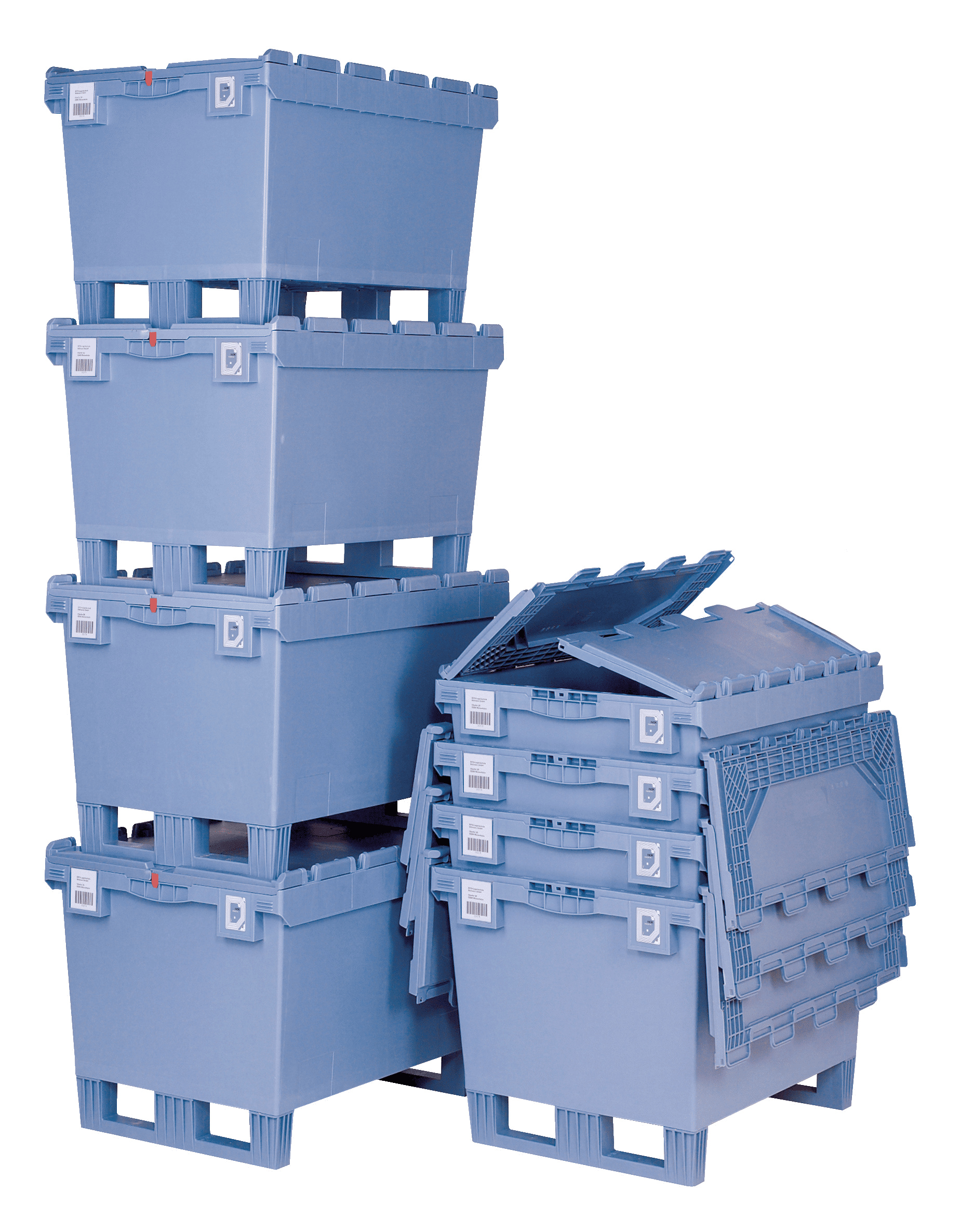 zoom



Short Description
first nestable container with fork entry shoes
perfect for all distribution/transport, storage and picking tasks
nest to reduce volume for empty storage and transportation
developed to withstand very heavy loads
solid lid allows secure stacking
More product details
Product Details
MB Distribution Container – with reinforced base, fork entry shoes, stacking strip and lid

This reusable distribution container from BITO is a multi-purpose storage solution with plenty of useful extras.

Designed with maximum convenience and work flow efficiency in mind, this reusable MB container from BITO is bound to impress. This hard-wearing container is made from durable plastic to minimise wear and tear. It also features a strong, reinforced base to handle heavier loads.

The boxes can be handled by forklift trucks and other automated machinery thanks to its runners, while stacking strips promote an easier, multi-tier storage. This MB container also comes with a lid to keep contents protected in transit, making it a perfect choice for companies operating in logistics.

The sturdy design of these containers makes them ideal for stacking, which saves precious square footage in warehouses and ultimately saves money. A host of handy extras are also available when you order, making handling and processing even easier and more convenient for your company, whatever its size. Order label pockets to identify and sort your stored goods more easily, or choose anti-slip mats to make your stacked containers more stable.
Technical specifications
| | |
| --- | --- |
| Bin type | MBD86421DKUFE |
| External dimensions L x W (mm) | 800 x 600 |
| Height (mm) | 553 |
| colour | dove blue |
| Volume (litres) | 147 |
| Stacking load (kg) | 300 |
| Load capacity (kg) | 200 |
| Temperature range | -20°C to +80°C |
| Base option | Double base |
| EAN | 4250692922241 |
Features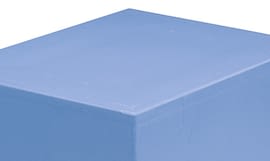 Standard base
Standard base for loads up to 50 kg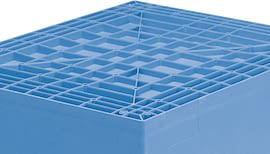 Ribbed base
Ribbed base for loads up to 75 kg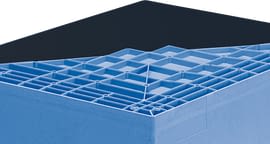 Double base
Double base for loads up to 200 kg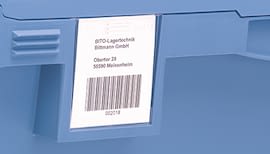 Label cover
The integral label cover protects your address labels and address cards.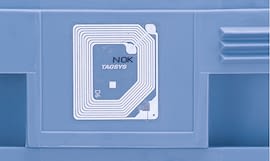 Barcode/RFID labels
Slightly recessed label areas allow exact positioning of barcode labels and RFID labels.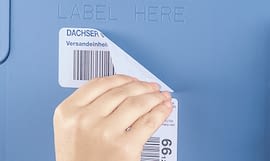 Adhesive labels
Dimpled areas allow easy positioning and removal of adhesive labels.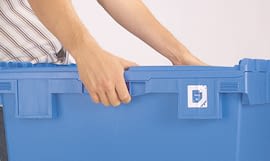 Manual handling
Ergonomically designed, closed hand grips allow easy handling.
Downloads
Technical data sheet
Declaration of conformity