Cantilever racking type S
single sided use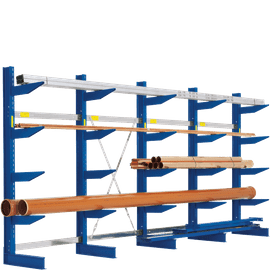 zoom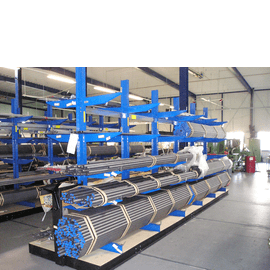 zoom


Short Description
for long and bulky loads
boltless assembly with back bracing every alternate bay
levels adjust at 60 mm intervals for optimum adaptation to your stock items
standard racking kits are available for immediate delivery
Product Details
Cantilever Racking Type S – the ideal storage solution for heavy and large goods


Type S Cantilever Racking is intended for indoor use and is the ideal solution for horizontal and vertical storage of large and long goods, including pipes and other industrial products.

Depending on the way this racking is arranged, cantilever arms can be used for one-sided or two-sided application. They are available in many different lengths and can include a variable number of stands. With shelving from the Type S series, you can achieve depths between 400 and 850mm.

This racking is made of robust IPE profile 140, making it an incredibly sturdy and stable solution. Shelving of this type can bear high volumes of weight and is incredibly durable over long periods of time. To protect your stored goods, the arms of this racking and its uprights have an epoxy powder coated paint finish. All other components of this type of shelving are galvanised for resistance against corrosion. In order to readily adapt shelving to the storage of different goods, arms can be fitted in place without the need for screws, into a 60mm grid. The structure of the shelves is completely boltless, making it easy to install and arrange. Shelving of this sort can carry loads of up to 2,880kg per level.
Technical specifications
| | |
| --- | --- |
| Distance between centre lines (mm) | 1061 |
| Total load capacity (kg) | 7920 |
| Load cap. per level (kg) | 1320 |
| Shelving height (mm) | 2500 |
| Number of arms per column | 5 |
| External bay width (mm) | 3255 |
| Number of columns | 4 |
| Useable depth (mm) | 600 |
| Description | Single sided use |
| colour | RAL 5010 Gentian blue |
| EAN | 4250692905022 |
Features
Self-supporting loads
Cantilever arms with end stops or without end stops


Ideal for items such as long loads, chipboard and steel sheet panels, timber packs, bars, pipes and tubes, cassettes and trays for long load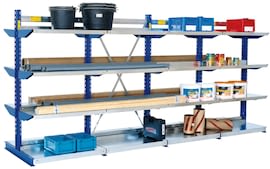 Flexible long loads
Cantilever arms with straight shelves


Ideal for items such as cuts, irregularly shaped items, smaller size drums, kegs, PVC containers and jerrycans, cardboard boxes, loose items, customer specific load carriers, etc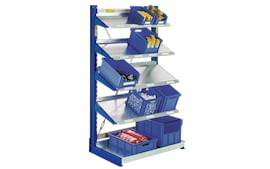 Ergonomically favourable supply
Cantilever arms with inclined shelves for providing supplies at workstations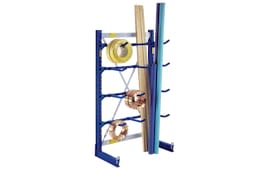 Storage of standing and hanging goods
Tubular arms for reels, coils and vertical storage