Container Pick Walls with small XL containers
with short side pick opening, 400 mm deep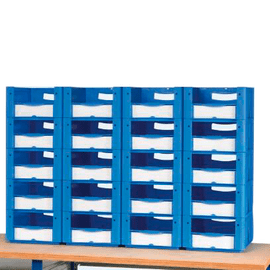 zoom

Short Description
XL containers - 400 mm deep
hardwearing polypropylene
each container has a pick opening
supplied with labels
no need for shelving or racking
adjust or expand as your needs change
choice of 3 container sizes
Product Details
Small Stackable Plastic Containers for Workshop Use
Effective storage in a workshop environment translates into efficient processes and these small stackable plastic containers are a key element of that for businesses across the country. These straight wall storage containers can be situated at the rear of workspaces or on tables or cabinets to provide easy access to equipment and components. Thanks to their wide openings, these small stackable storage containers are easy to use and provide operatives with access to key equipment without having to move too far from their workshop space. In a busy environment where every minute counts, this could be vital.

Documentation Storage with Small Stackable Storage Containers
Versatility improves any working environment and these small stackable plastic storage containers can be used as easily for document storage and organisation as they can for equipment and component storage. This makes them ideal for use in business post rooms and in other locations where straightforward document organisation is important. Any department can make use of these small stackable plastic containers to aid document organisation and retention, and their effectiveness is enhanced by the labels supplied with the containers. They are the ideal choice for office locations as well as any business working with lots of documentation such as logistics and manufacturing firms.

Warehouse Pick Bins Allow Simple Picking
Businesses with a warehouse that is either attached or integral to the workings of their company know the benefit of simple warehouse pick bins. With all the options on the market, it can be easy to bypass the most straightforward solution that is both durable and simple to use. These small stackable plastic containers are the ideal solution for a warehouse with smaller components, equipment and products which would be lost within large storage solutions. Choose these small stackable plastic containers for warehouse picking in any industry.
Technical specifications
| | |
| --- | --- |
| Description | with short side pick opening, 400 mm deep |
| Width (mm) | 1200 |
| Height (mm) | 850 |
| Depth (mm) | 400 |
| Features | 20 x XL43174 |
| colour | blue |