European size stacking containers XL
with short side pick opening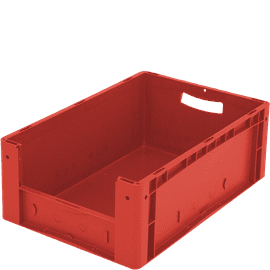 zoom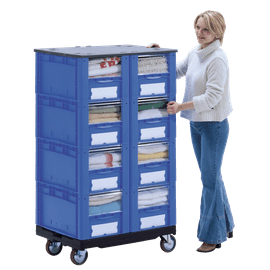 zoom


Short Description
large volume
ergonomic through-grips improve handling convenience
easy-to-view-n'-pick solution for small parts
pick opening with window from very durable polycarbonate
BITO's most versatile container series suits almost any storage, manufacturing and transport/distribution application
Product Details
Euro stacking containers with open fronts for easy visibility and efficient picking


The Euro Stacking Container XL features a cutaway front to provide instant viewing of your products, while also allowing for easy picking - ideal for keeping products within easy reach, even when containers are stacked.

Storage boxes are an ideal solution when you need to store a lot of products within a small space. These boxes are easily placed on top of one another and are particularly sturdy when stacked. They are also suitable for transporting goods, thanks to their practical handles. In the case of stacking containers, products are often hard to access or view. This is not the case with these containers, as they feature a cutaway window that allows for inspection of contents and easy retrieval of goods – ideal for picking purposes. These boxes also feature a holder for labels, allowing for enhanced organisation.

These euro stacking containers are available in sizes ranging from 600 to 800 mm. The maximum height available is 520 mm, so you can stock larger items within them. Depending on how you wish to stack these containers, you can choose openings to the front or side of each container - an ideal choice for bespoke storage arrangements in any space.
Technical specifications
| | |
| --- | --- |
| Bin type | XL64224 |
| External dimensions L x W (mm) | 600 x 400 |
| Height (mm) | 220 |
| colour | red |
| Material | PP |
| Internal dimensions L x W x H (mm) | 568 x 368 x 216 |
| Volume (litres) | 41 |
| Stacking load (kg) | 250 |
| Load capacity (kg) | 15 |
| Pick opening W x H (mm) | 274 x 106 |
| Temperature range | -20°C to +80°C |
| Base option | Standard base |
| EAN | 4250692920261 |
Features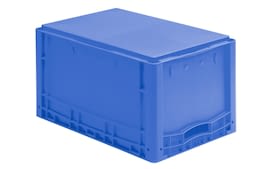 Standard base
The standard base will be your choice for loads of up to 30 kg.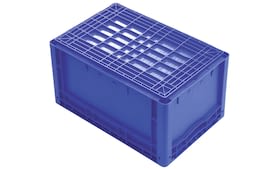 Ribbed base
Ribbed base containers are perfect for loads of up to 50 kg. Base deflection is very low.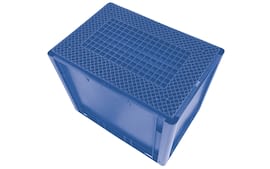 Ribbed base RX
Containers with a ribbed RX base carry up to 50 kg. Base deflection is very low. Diagonal outer base ribbing ensures excellent use on conveyors.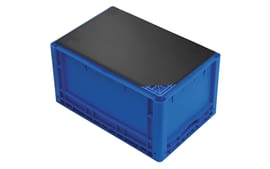 Double base
Double base containers take loads of up to 50 kg and only have a minimum base deflection.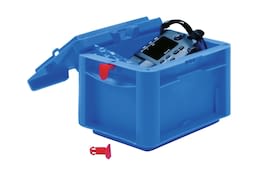 Snap lock lid
Suited for stacking containers XLD21121, ideal for shipping spare parts etc. Additional security tagging with KLTP tags possible.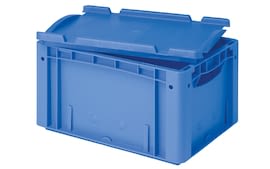 Drop-on lid AD
Closes an individual container or a container stack and is suited for automated lidding and strap-sealing.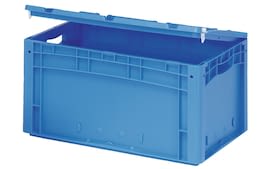 Drop-on lid ASDV
One-piece lid, hinged on one side and closed with 2 snap-on fixtures on the other side.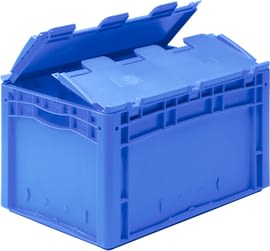 Hinged lid
Two-part lid suited for strap-sealing and security-tagging with KLTP security seals, excellent for distribution and transportation applications.
Downloads
Technical data sheet
Declaration of conformity
Brochure