European size stacking containers XL
hinged on one side and closed with 2 snap locks on the other side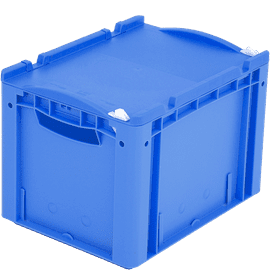 zoom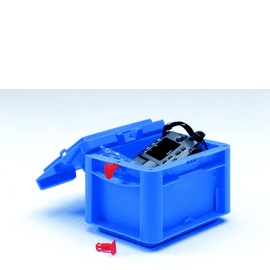 zoom


Short Description
permanently attached lid protects your goods in transit
large volume
snap-locked lid ensures easy and secure handling
can be security sealed to deter tampering
ergonomically designed handles
Product Details
Euro Stacking Containers XL with snap-fasten closure lid

This Euro Stacking Container XL comes with a one-piece lid that snaps shut for total protection of contents.

This Euro stacking container has a one-piece folding lid and practical snap-fasten closure that fully protects contents from intrusion by dirt, moisture and other harmful elements. These containers are ideal for use in long-term storage and transportation.

The BITOBOX XL is available in various basic sizes and heights and comes equipped with a standard base. Inside, goods can be stored safely and cleanly for storage or transportation. A generous internal volume provides plenty of space for storing parts of all shapes and sizes. Ergonomic handles allow for easy lifting and manual transportation. Two distinct colours, blue and red, are available to easily distinguish the category of contents housed within them.

The plastic used for XL containers is robust and designed to last. It also has an incredibly lightweight design that means more internal space can be dedicated to the storage of goods. The plastic used is also temperature resistant, handling temperatures ranging from -20 to +80°C, with ease. The one-piece lid has a snap-fasten closure, ensuring contents are safely stored inside, with no chance of them falling out when in transit. To save space in warehouses, these containers can be easily stacked on top of each other.
Technical specifications
| | |
| --- | --- |
| Bin type | XL43271ASDV |
| External dimensions L x W (mm) | 400 x 300 |
| Height (mm) | 288 |
| colour | blue |
| Material | PP |
| Internal dimensions L x W x H (mm) | 368 x 268 x 267 |
| Volume (litres) | 24 |
| Stacking load (kg) | 250 |
| Load capacity (kg) | 30 |
| Temperature range | -20°C to +80°C |
| Base option | Standard base |
| EAN | 4250692932127 |
Features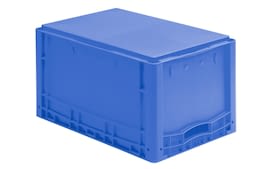 Standard base
The standard base will be your choice for loads of up to 30 kg.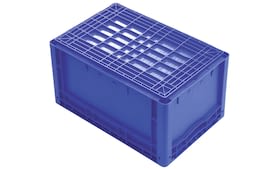 Ribbed base
Ribbed base containers are perfect for loads of up to 50 kg. Base deflection is very low.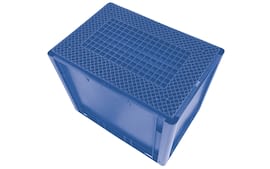 Ribbed base RX
Containers with a ribbed RX base carry up to 50 kg. Base deflection is very low. Diagonal outer base ribbing ensures excellent use on conveyors.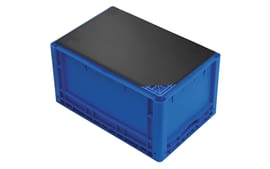 Double base
Double base containers take loads of up to 50 kg and only have a minimum base deflection.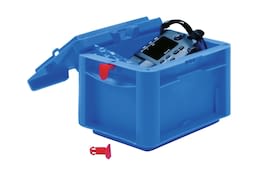 Snap lock lid
Suited for stacking containers XLD21121, ideal for shipping spare parts etc. Additional security tagging with KLTP tags possible.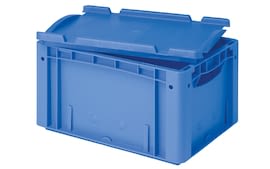 Drop-on lid AD
Closes an individual container or a container stack and is suited for automated lidding and strap-sealing.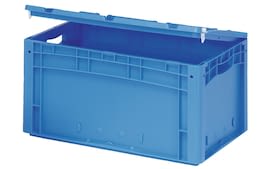 Drop-on lid ASDV
One-piece lid, hinged on one side and closed with 2 snap-on fixtures on the other side.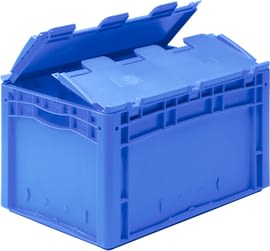 Hinged lid
Two-part lid suited for strap-sealing and security-tagging with KLTP security seals, excellent for distribution and transportation applications.
Downloads
Technical data sheet
Declaration of conformity
Brochure