European size stacking containers XL
with hinged two-part lid
zoom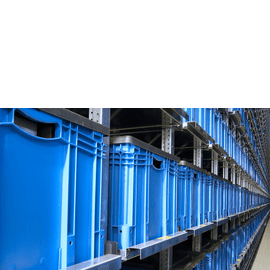 zoom


Short Description
large volume
ergonomic through-grips improve handling convenience
transport and storage of sensitive products in manually serviced environments as well as in automated warehouses
The lid protects contents from dirt and damage. Optionally available security seals deter tampering and theft.
BITO's most versatile container series suits almost any storage, manufacturing and transport/distribution application
Product Details
European sized stacking containers – with hinged lid

This XL stacking container with an integrated two-piece hinged lid is perfect for use in storage and handling of items.

These stacking XL containers comply with European standards and are equipped with a secure hinged lid that makes them an ideal choice for use in warehouses and production.

They come in a range of sizes to suit any storage application, with different widths, depths and heights available to accommodate and match most of the equipment currently used in warehousing and logistics. This box boasts a generous interior to accommodate all manner of goods, perfect for storing individual products, assorted lots or multiple small parts. If you're looking to invest in boxes for multiple categories of products, these containers can be ordered in various colours to set them apart and make it easier for you to distinguish between them. While they may be lightweight containers, they are made from durable plastic and they are built to last. This hard-wearing plastic is resistant not only to mechanical damage, but also to thermal damage, withstanding temperature changes within a range of -20°C to +80°C.

To round off our offering, these boxes are also an ergonomic choice, with convenient handles making manual handling easier. Particularly well-suited for use in smaller warehouses, where square footage is at a premium, the boxes can also be stacked on top of each other with ease.
Technical specifications
| | |
| --- | --- |
| Bin type | XLD64321 |
| External dimensions L x W (mm) | 600 x 400 |
| Height (mm) | 338 |
| colour | blue |
| Material | PP |
| Internal dimensions L x W x H (mm) | 568 x 368 x 316 |
| Volume (litres) | 63 |
| Stacking load (kg) | 300 |
| Load capacity (kg) | 20 |
| Temperature range | -20°C to +80°C |
| Base option | Standard base |
| EAN | 4250692929523 |
Features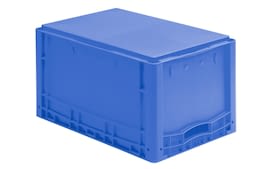 Standard base
The standard base will be your choice for loads of up to 30 kg.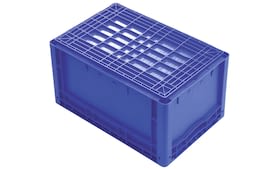 Ribbed base
Ribbed base containers are perfect for loads of up to 50 kg. Base deflection is very low.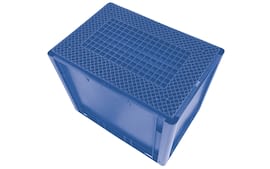 Ribbed base RX
Containers with a ribbed RX base carry up to 50 kg. Base deflection is very low. Diagonal outer base ribbing ensures excellent use on conveyors.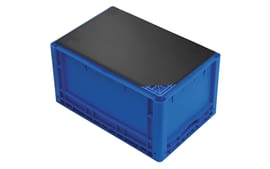 Double base
Double base containers take loads of up to 50 kg and only have a minimum base deflection.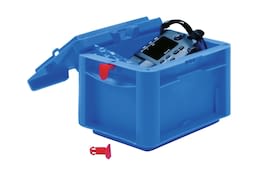 Snap lock lid
Suited for stacking containers XLD21121, ideal for shipping spare parts etc. Additional security tagging with KLTP tags possible.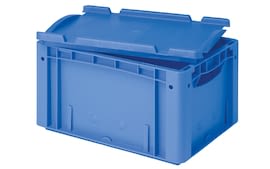 Drop-on lid AD
Closes an individual container or a container stack and is suited for automated lidding and strap-sealing.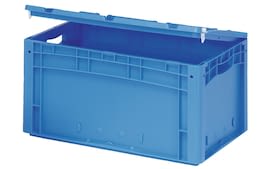 Drop-on lid ASDV
One-piece lid, hinged on one side and closed with 2 snap-on fixtures on the other side.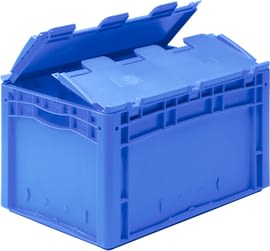 Hinged lid
Two-part lid suited for strap-sealing and security-tagging with KLTP security seals, excellent for distribution and transportation applications.
Downloads
Technical data sheet
Declaration of conformity
Brochure