Extension bays for pallet racking
pallet weight 800 kg, bay width 2700 mm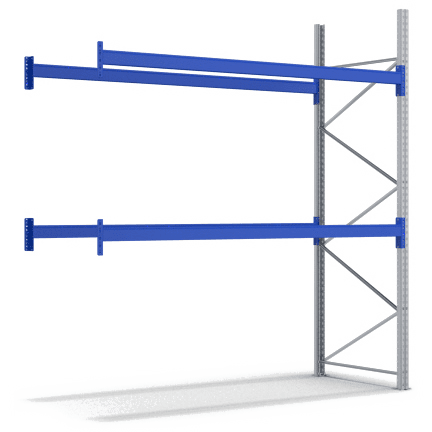 zoom


Short Description
load capacity per level 2400 kg, suited for medium weight pallets
ideally suited for Euro pallets handled short side facing
all pallets can be directly accessed
supplied with a wide range of accessories to suit many requirements, add-ons possible whenever required
loads can be handled with all common lift truck types and order picking vehicles
UDL assumed for all load capacities
More product details
Product Details
Pallet Racking Bays

Pallet racking bays offer the perfect storage solution for Euro pallets

With these complete pallet racking bays from BITO, you've an ideal storage solution for Euro pallets of different weights.

BITO's pallet racks are designed with a length of 2,700 mm so that they can be arranged lengthwise with up to three pallets. Depending on the items you wish to store, the levels can be ordered for pallets weighing 600, 800 or 1,000 kg. With a capacity of 1,000 kg, one level can hold a total of up to 3,000 kg.

In order to easily assemble this racking in different spaces, individual levels can be adjusted in height, in increments of 50 mm. Beams have 5 connector hooks to be inserted into the upright and a galvanised locking pin for safety.
Should you require this complete racking system to be fixed in position, all the materials you'll need are included, including floor anchors for total support. Floor anchoring accessories are also included. Frame surfaces are galvanised to ensure optimum corrosion protection of shelves.

Please note: This racking system has been designed for in-door use only. The indicated load capacities are not valid for earthquake hazard zones. If your storage and order picking facility is intended for use in a seismic hazard zone, please inform BITO in advance!
Technical specifications
| | |
| --- | --- |
| Shelving height (mm) | 2500 |
| External bay depth (mm) | 1100 |
| External bay width (mm) | 2790 |
| Loading direction | short side facing |
| Shelf levels | 3 |
| Max. pallet load | 800 |
| Upright type | P1 |
| Total capacity in Euro pallets | 9 |
| Number of levels | 2 |
| Maximum level spacing (mm) | 2200 |
| colour | Frames galvanised, beams epoxy-coated in RAL 5010 Gentian blue |
| Load per level (kg) | 2400 |
| Bay load (kg) | 4800 |
| EAN | 4250692949750 |
Features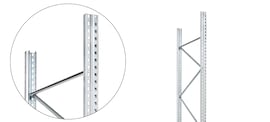 Sturdy frames for extremely high loads
made from top quality coil steel


supplied unassembled, can also be supplied fully assembled


galvanised


level spacing adjustable in 50 mm increments


including fixing material and shims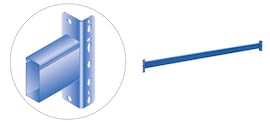 Beams from one-of-a-kind BITO-Twintop® profiles
provide excellent lengthwise rigidity to racking construction


innovative profile geometry


beams can be adjusted in height on a 50 mm pitch, thus allowing optimum adaptation to loading heights


scratch resistant epoxy coating


each hook connector has 5 hooks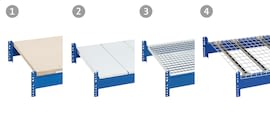 Drop-on decking for box-type beams
1 Chipboard panels
2 Drop-over steel panels
3 Mesh decks
4 Light-duty wire-mesh deck segments, galvanised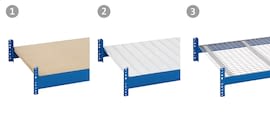 Drop-in decking for stepped beams
1 Chipboard panels
2 Drop-in steel panels
3 Mesh decks