Easy action mobile safety steps
59 Series - East Action Safety Steps - 4 tread - 381mm x 915mm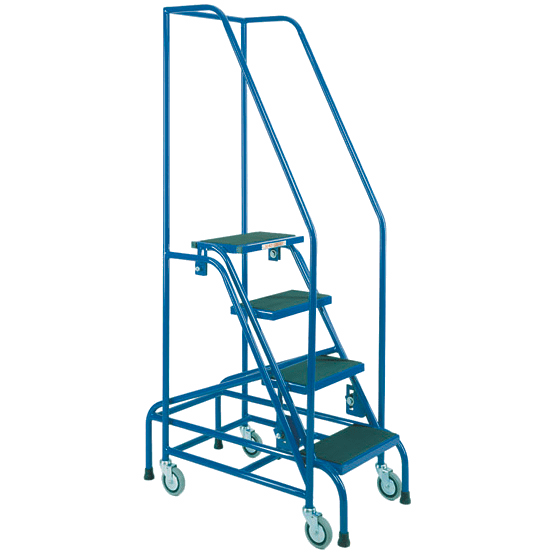 zoom

Short Description
step on to immobilise, step off to mobilise
all steel construction
rubber covered non-slip treads
single handrail on 2 step model
double handrails on 3-6 step models
all swivel rubber tyred castors
Colour Options:
Red, Blue, Orange, Green
More product details
Product Details
Added Safety & Efficiency - Easy Access Mobile Safety Step

Every responsible employer guarantees safety to his or her workers by installing proper warehouse equipment, including those that enable workers to get to greater heights. Workplace health involves having safe access to items placed on higher surfaces. Choosing easy access to mobile safety steps may require the workplace's assessment to ascertain the right easy access mobile safety steps needed. Whether you go for mobile safety steps, or a different kind of steps will highly depend on your workplace needs.


Guaranteed Efficiency when
Picking and Packing
Choosing the correct steps when working in a busy warehouse or related facility is crucial. Workers may need to use suitable mobile safety steps when taking stock and conducting warehouse maintenance. Stable and reliable easy access mobile safety steps give workers the confidence to do their work without worrying about accidental falls. For one to access higher shelves, mobility steps safety tools are necessary since the traditional foldable steps work for lower surfaces. Note that choosing the correct mobile steps guarantees efficacy because of the workers' ability to handle more tasks since they can move around with ease. Observing health standards is mandatory as it guarantees workers security in their daily operations.


Why You Need to Choose Easy Action Mobile Safety Steps

The steps come with the ability to help users reach a height of up to 2900mm. Workers can also utilise the platforms reinforced with a safety chain and double handrails. It means workers can operate at higher heights without jeopardizing their health because they are covered against falls. What's more, the bright colour range the steps come in guarantees visibility even in the busiest of workplaces. It comes in variants of orange, red, blue and green, all of which are vibrant colours to spot. Easy movement is guaranteed by the presence of all the swivel rubber-tyred castors, which are long-lasting. At an affordable price, you can ensure your workers' safety by getting them this 59 series easy access mobile safety steps.
Technical specifications
| | |
| --- | --- |
| External dimensions L x W x H (mm) | 920 x 520 x 1825 |
| Number of treads incl. platform | 4 |
| Height of platform/upper tread (mm) | 915 |