Carton live storage Flex
, non-mobile version, feeder levels with cranked picking face

non-mobile version, feeder levels with cranked picking face
zoom


Short Description
Carton live storage accommodates smaller sized storage units such as plastic bins and containers, cartons or individual items without packaging. All goods are loaded at the rear of a storage installation and move gravity-driven on inclined roller lanes to the picking face where they can be picked to requirement.
Product storage in FIFO (First in - First out) order as well as single reference lines allow easy monitoring of production batches and sell-by dates.

Please note: This racking system has been designed for in-door use only. The indicated load capacities are not valid for earthquake hazard zones. If your storage and order picking facility is intended for use in a seismic hazard zone, please inform BITO in advance!
ergonomic supply of parts and components at workstations
FIFO stock rotation
compact and clear presentation of goods, items are within easy reach
short walking distances improve picking performance
supply volumes can be reduced to a minimum since low stock levels are noticed immediately
More product details
Product Details
Live Storage / Continuous Order Picking Shelving

Adaptable shelving racking from BITO allows for easier order picking

BITO offers a variety of versatile shelving for the effective picking of products in warehouses and distribution centres, helping you overcome common obstacles and achieve deadlines.

In addition to static shelving systems, BITO offers a range of mobile shelving units, adapted with castor wheels. You can also customise your storage solution with added accessories to best accommodate your individual needs. BITO shelving systems can be adapted with track castors and roller strips, with the FIFO system being a particularly popular choice. The individual levels of BITO shelves can also be adjusted or combined with one another, giving you a bespoke solution. Slanted fronts are also available, with an inclination of 6.5 degrees, making them ideal for efficient picking of goods without the need to move storage units around. Maximum load capacities of individual compartments is an impressive 100 kg. These picking shelves have a total load of 800 kg, making them an ideal choice for very heavy goods. These systems are your go-to for applications requiring a reliable order picking system with through-feed shelves, adapted in accordance with your individual needs.
Technical specifications
| | |
| --- | --- |
| Description | non-mobile version, feeder levels with cranked picking face |
| Shelving height (mm) | 2000 |
| Useable depth (mm) | 1200 |
| Total width (mm) | 1470 |
| Description | Set offer |
| Colour | Frames galvanised, beams epoxy-coated in RAL 5010 Gentian blue |
| number of levels | 4 |
| External bay width (mm) | 1470 |
Features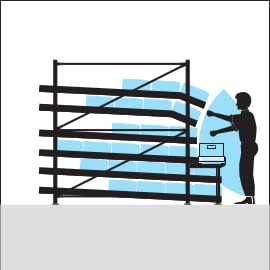 First in – first out
items stored first are retrieved first


easy monitoring of sell-by dates and production batches


ergonomic picking curve


all reference lines on stock can be viewed immediately


stock items are always available at the picking side


items move unassisted to the picking face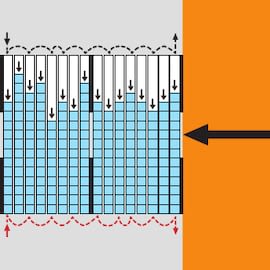 Very good floor space utilisation
substantial gain in floor space unused floor space is considerably reduced


separate picking and loading aisles – operators do not disturb each other


shorter travel routes for order pickers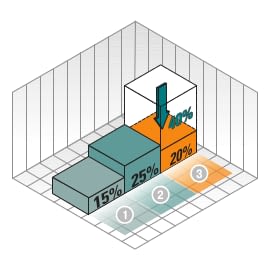 Substantially reduced travel times
Reading time (1) – remains the same as with conventional floor space occupation


Picking time (2) – remains the same as with conventional floor space occupation


Travel time (3) – is cut down by as much as two-thirds – increased turnover frequency
Downloads
Instructions of assembly and use
Installation data sheet

Do you have any questions about our products or your order?
We are happy to help you:
+971 4887 9027