Boltless shelving complete with PK bins
, with 44 storage and handling bins PK

with 44 storage and handling bins PK
zoom

Short Description
tapered front for immediate product identification
can be subdivided to accommodate several stock references in the same bin
fast and easy assembly without bolts
shelves with integral retaining lip at the rear to prevent products from falling off
Set offer – BITO is your single source of shelving & racking, plastic bins & containers
More product details
Product Details
Shelving with PK bins

With PK container shelving from BITO, you can create total order in your workshop or warehouse

Unsorted small parts can cause chaos in the warehouse, which is why this handy sorting system from BITO is an ideal addition to any warehouse or workshop.

The PK container shelving unit has a flexible sorting structure of 11 shelves, each of which can be individually adjusted in height. The overall construction of this unit is simple and can be erected without the use of nuts and bolts. The main feature of this unit is up to 140 individual shelf bins, which can be used for the sorting and storage of small components and parts. This makes this container shelving particularly useful for the storage of screws, nails and other small parts. Each individual box measures 500 mm by 230 mm, providing plenty of individual storage space. What's more, each box can be individually labelled for clearer categorisation. Overall, this unit measures a discreet 1,850 mm x 1,000 mm. In addition, you can expand this shelving system individually, as boxes of other sizes from the BITO range can be inserted into this shelving frame for a bespoke storage solution.
Technical specifications
| | |
| --- | --- |
| Shelving height (mm) | 1850 |
| Useable depth (mm) | 500 |
| Shelf width (mm) | 1000 |
| Number of shelves | 11 |
| Description | Starter bay |
| Features | 44 x PK351 (500 x 230 x 115 mm) |
| Shelf load (kg) | 50 |
| Colour | bin colour dove blue |
| bay load (kg) | 500 |
| External bay width (mm) | 1058 |
| External bay depth (mm) | 524 |
| EAN | 4250692918268 |
Features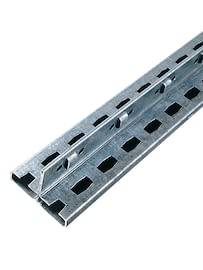 Uprights
High load capacities are achieved through precision steel bending to ensure sufficient rigidity for realising shelving heights of up to 10 metres.
Slim 50 mm profiles contribute to maximum space utilisation.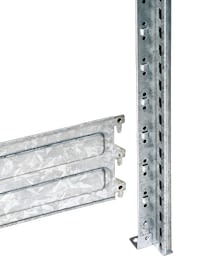 Frames
Easy boltless assembly on site for perfect adaptation to your location.
Level spacing can be adjusted in 25 mm increments to suit your needs.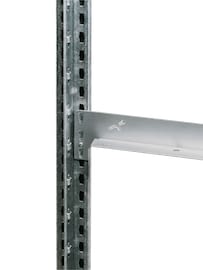 Beams
Beams and uprights form a solid force-fit connection that provides excellent lateral stability. The three location hooks of each beam connector conveniently slot into the upright perforations.
Safety pins prevent that the beam is accidentally dislodged.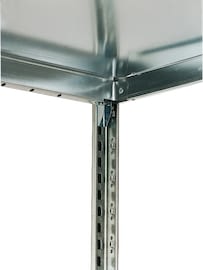 Shelves
Solid shelves with shelf clips - Our shelves feature box-profiled edges at the long sides and triple edge bending at the short sides.
Reinforcing lengthwise beads and pressure joined corners ensure excellent stability.
All shelves are perforated to accommodate shelf dividers.
Downloads
Brochure
Instructions of assembly and use

Do you have any questions about our products or your order?
We are happy to help you:
+971 4887 9027